From Longman Dictionary of Contemporary English
cereal
ce‧re‧al
/
ˈsɪəriəl
$

ˈsɪr-
/
●●●
S3
noun
1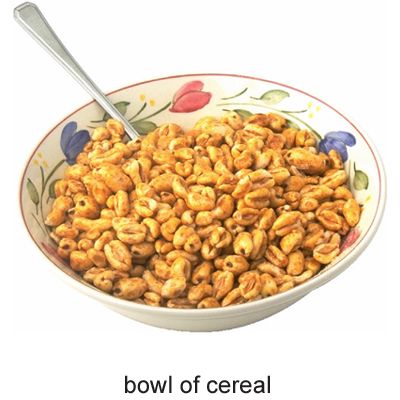 [

countable, uncountable

]
DF
a breakfast food made from grain and usually eaten with milk
a bowl of

breakfast cereal
2
[

countable

]
TAC
a plant grown to produce grain, for example wheat, rice etc
cereal crops
cereal
•

Eaten with milk or cream, they made an acceptable breakfast

cereal

.
•

Some products that bear freshness dates are cheeses, breakfast

cereals

, bakery products, and mayonnaise.
•

Looking at the table we can see how low the calcium level is in

cereals

.
•

Lucky Charms Nestlé's kicking

cereal

.
•

a bowl of

cereal
•

It seems as though every day a new kind of

cereal

appears on the grocery shelves.
•

Millet was still the primary

cereal

crop.
•

Half of Britain's

cereal

farms rank among the big 300,000.
•

Soon afterwards, he moved from livestock to

cereal

.
breakfast cereal
•

Most over-the-counter

breakfast cereals

have 2 to 4 grams of fiber, and high-fiber cereals have up to 9 grams.
•

Advertisements for

breakfast cereals

may present a happy, harmonious family in a sunny bright kitchen.
•

The local grocery in Brandon, Manitoba, sports 12,000 food products and flaunts 56 brands of

breakfast cereal

.
•

It was when I went on

breakfast cereals

that liquor got me.
•

In the supermarkets of Colombo and Kandy, Puffa-Puffa-rice

breakfast cereal

is on sale for the equivalent of three dollars a packet.
•

Bread, rolls,

breakfast cereal

, bananas and fried fruit are ideal.
•

Alternate among several

breakfast cereals

that contain four grams of fiber or more per serving.
•

Euell Gibbons once claimed on my living room television that some

breakfast cereal

tasted like hickory nuts.
Origin
cereal
(

1800-1900

)

French

céréale

, from

Latin

cerealis

"

of Ceres

"

, from

Ceres

ancient Roman goddess of grain and farming