From Longman Dictionary of Contemporary English
visor
vi‧sor
/
ˈvaɪzə
$

-ər
/
noun
[

countable

]
1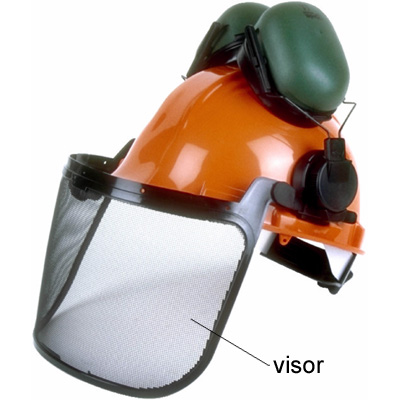 DCC
the part of a helmet (=protective hard hat) that can be lowered to protect your face
2
American English
the curved part of a cap that sticks out in front above your eyes
SYN

peak

British English
3
TTC
a flat object fixed above the front window inside a car that can be moved down to keep the sun out of your eyes
4
DCC
a curved piece of plastic that you wear on your head so that it sticks out above your eyes and protects them from the sun
visor
•

The black

visors

of the hats the guards wore gleamed dully.
•

And the special pull-forward

visor

means you can increase the effectiveness of the hood over a greater area.
•

All he could see was tough grey jelly plastered across his

visor

.
•

Full transparent face shields or

visors

may be specified as an alternative and are sometimes an integral part of a safety helmet.
•

The prince was resplendent in his white naval uniform with braid on the

visor

of his cap.
•

She scanned the displays set round the

visor

on the inside of the helmet.
Origin
visor
(

1200-1300

)

Anglo-French

viser

, from

Old French

visiere

, from

vis

;

→

VISAGE