From Longman Dictionary of Contemporary English
shield
shield
1
/
ʃiːld
/
●●○
noun
[

countable

]
1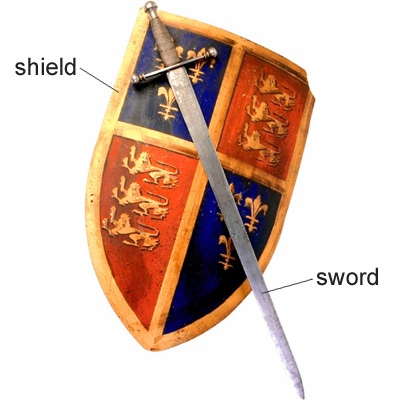 a)
PMW
a large piece of metal or leather that soldiers used in the past to protect themselves when fighting
b)
SCP
a piece of equipment made of strong plastic, used by the police to protect themselves against angry crowds
SYN

riot shield
→
human shield
2
a)
something in the shape of a shield, wide at the top and curving to a point at the bottom, that is given as a prize for winning a competition, especially a sports competition
b)
a drawing or model of a shield, wide at the top and curving to a point at the bottom, that is used as a coat of arms
3
PROTECT
something that protects a person or thing from harm or damage
shield against
The immune system is our body's shield against infection.
4
American English
the small piece of metal that a police officer wears to show that they are a police officer
SYN

badge
shield
•

And Perseus carried a

shield

provided by the goddess of wisdom.
•

Rawlie sat next to him, in an old chair with a back shaped like a

shield

.
•

The adoral

shields

are small wing-like almost separating the oral shield from the first lateral arm plate.
•

The spacecraft is covered in a material that acts as a heat

shield

.
•

This ironclad

shield

was pierced by ten gun ports, the largest guns being designed for 9-inch shells.
•

Suncream acts as a kind of

shield

against the sun's harmful ultraviolet rays.
•

Only the distal edge of the radial

shields

are visible.
•

The radial

shields

are triangular to tear-drop shaped, just over a quarter the disk radius in length.
•

The radial

shields

are not visible, probably absent.
•

Other demonstrators have managed to draw pink hearts on most of the riot

shields

.
•

Before operating this machine, make sure the safety

shield

is in place.
shield against
•

The immune system is our body's

shield against

infection.
shield
shield
2
●●○
verb
[

transitive

]
PROTECT
to protect someone or something from being harmed or damaged
Women will often lie to shield even the most abusive partner.
shield somebody/something from somebody/something
He held up his hands, shielding his eyes from the sun.
import tariffs that shield firms from foreign competition
►

see

thesaurus

at
protect
Register
Shield

is used mostly in journalism or literature. In everyday English, people usually say

protect

:
He used his hands to

protect

his eyes from the sun.
→ See

Verb table
shield
•

He had nearly forgotten about the small house next to him,

shielded

as it was by the rhododendron hedge.
•

Beneath him,

shielded

by his body, lay a baby.
•

Dana had to be

shielded

from Roman's anger, and she was the only one who could do that.
•

The elderly woman

shielded

her wounded husband.
•

If other servants resented him, these two carefully

shielded

him.
•

Fuel taxes were reduced,

shielding

industry from the effects of the rise in oil prices.
•

I was lucky; a bit of the fence fell on me and

shielded

me from the blast, I suppose.
•

I held up a hand to

shield

my eyes.
•

The trappings of prominent elected offices do not

shield

the occupants from the challenges, temptations and failures of daily life.
•

I passed long wagon trains filled with wounded and dying soldiers, without even a blanket to

shield

them...
•

But there was Daley to

shield

Wilson, beating down the evil ward bosses who opposed the Daley-Wilson reform.
•

The treated glass

shields

your eyes from the sun's ultraviolet rays.
shield somebody/something from somebody/something
•

Tara's manager had

shielded her from

a lot of the bad publicity and hostile reviews.
Origin
shield
1
Old English
scield