From Longman Dictionary of Contemporary English
ldoce_341_d
triangle
tri‧an‧gle
/
ˈtraɪæŋɡ

ə

l
/
●●●
noun
[

countable

]
1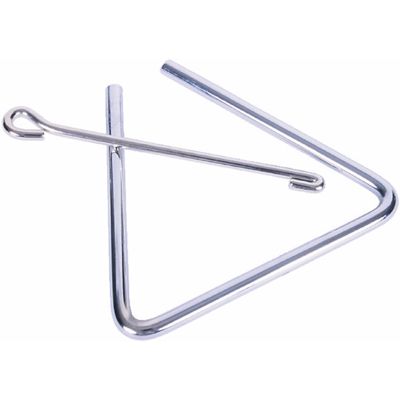 HM
a flat shape with three straight sides and three angles
2
CF
something that is shaped like a triangle
a triangle of land
3
APM
a musical instrument made of metal bent into the shape of a triangle. You hit it with a metal stick to make a ringing sound.
4
American English
HM
a flat plastic object with three sides that has one angle of 90° and is used for drawing angles
SYN

set-square

British English
triangle
•

They represent a

triangle

of forces, in which the movement of any one point affects the other two.
•

The Sander Parallelogram distorts the apparent dimensions of an isosceles right angled

triangle

.
•

Second, the welfare cost of monopoly is greater than the deadweight burden

triangle

itself.
•

He studied the dark

triangle

between her legs.
•

Alpha, or Hamal, forms a large

triangle

with Beta and Gamma Andromedæ.
•

We had to make chains of

triangles

which would be connected to chains in other countries.
•

A woman sells buttons with pink

triangles

.
•

Kubota claims performance ratings of between 200,000 and 1.2m shaded

triangles

per second and 350,000 to 2m three-dimensional vectors per second.
•

His nose was a small

triangle

on his wide face.
Origin
triangle
(

1300-1400

)

Latin

triangulum

, from

tri-

(

→

TRI-

) +

angulus

"

angle

"