From Longman Dictionary of Contemporary English
boater
boat‧er
/
ˈbəʊtə
$

ˈboʊtər
/
noun
[

countable

]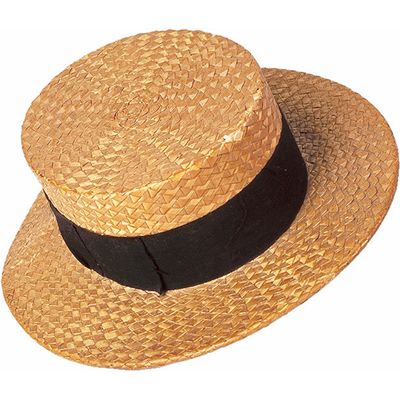 DC
a hard straw hat with a flat top
boater
•

They are a magnet for tourists, experienced

boaters

and amateurs alike.
•

Enough fuel leaked into the lake that nearby

boaters

could see the shiny residue and smell the gasoline.
•

Removal of the straw

boater

revealed a head of sleeked-down dark hair - a man's head of hair.
•

The boat was towed to Sausalito and the

boater

was uninjured.
•

Marine manufacturers are really listening to what

boaters

want, and the hot new trends prove it.
•

State regulations require whitewater

boaters

to wear helmets and life vests.
•

The men wore

boaters

and blazers, the women summer dresses.
Origin
boater
(

1800-1900

)

Because it was originally used for boating