From Longman Dictionary of Contemporary English
segment
seg‧ment
1
/
ˈseɡmənt
/
●○○
noun
[

countable

]
1
PART
a part of something that is different from or affected differently from the whole in some way
segment of
segments of the population
2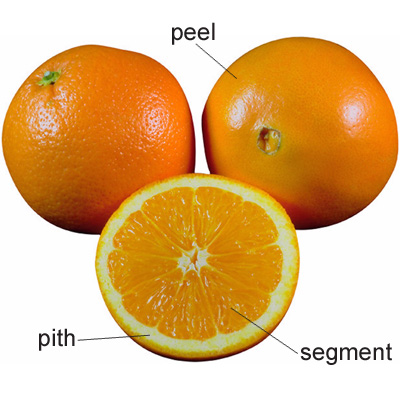 PART
a part of a fruit, flower, or insect that it naturally divides into
Decorate with orange segments.
3
technical
CF
the part of a circle that is separated from the rest of the circle when you draw a straight line across it
4
technical
PART
the part of a line or of a length of something between two points
segment of
segments of DNA
segment
•

An ant's body is divided into three distinct

segments

.
•

Their stories are bountiful in this engagingly mounted documentary, running Sunday night in three one-hour

segments

on the History Channel.
•

Microprocessor sales represent one of the largest

segments

of the chip market.
•

There is also a list of the next

segments

to be tried in the lattice.
•

For the dragonflies, mould small curved lengths and mark on

segments

with a cocktail stick.
•

The diagram has one

segment

filled in; pupils could fill in the others themselves, working either in groups or individually.
•

Decorate the cake with orange

segments

.
•

orange

segments
•

Each sales team targets its efforts at a particular

segment

of the general population.
•

The program included a short

segment

about pet owners.
•

In this

segment

of the nephron, reabsorption is all isotonic, and no contribution to dilution is made.
segment of
•

A large

segment of

the population regularly takes vitamins.
segment
seg‧ment
2
/
seɡˈment
/
verb
[

transitive

]
to divide something into parts that are different from each other
→ See

Verb table
segment
•

The average Vadinamian looks like an over-sized larva, boneless and

segmented

.
•

A semantic constituent which can not be

segmented

into more elementary semantic constituents will be termed a minimal semantic constituent.
•

Consumer markets are usually

segmented

on the basis of geography, demography and buyer-behaviour.
•

Routers allow companies to departmentalize and

segment

their networks so that a problem on one segment does not bring down another department.
•

The tape, shot on February 25, will be shown in five-minute

segments

this week.
•

Doug prefers expensive Trojan silver fish,

segmented

to twist and swivel realistically.
From Longman Business Dictionary
segment
seg‧ment
1
/
ˈsegmənt
/
noun
[

countable

]
1
ECONOMICS
a part of the economy of a country or of a company's work
The shipbuilding segment has reported higher earnings.
Within the health care segment, pharmaceuticals sales increased 17%.
segment of
Commodity funds are the fastest-growing segment of the retail futures business.
2
(
also
market segment
)
MARKETING
a group of customers that share similar characteristics, such as age, income, interests, and social class
How can a manufacturer target his products successfully on his chosen market segments?
3
(
also
market segment
)
MARKETING
the products or services in a particular part of the market
Our aim is to reach the market segment between conventional motor inns and budget motels.
segment
seg‧ment
2
/
segˈment
/
verb
[

transitive

]
MARKETING
to divide a large group of people into smaller groups of people of a similar age or with similar incomes, interests etc, so that products that are most suitable for each group can be sold to it
Social class is a useful variable for segmenting consumer markets.
—
segmentation
noun
[

uncountable

]
Product segmentation focuses on how consumers perceive and differentiate between available products.
→ See

Verb table
Origin
segment
(

1500-1600

)

Latin

segmentum

, from

secare

"

to cut

"