From Longman Dictionary of Contemporary English
penguin
pen‧guin
/
ˈpeŋɡwɪn
/
●●○
noun
[

countable

]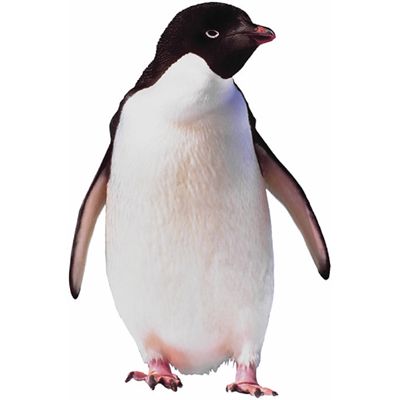 HBB
a large black and white Antarctic sea bird, which cannot fly but uses its wings for swimming
penguin
•

Well, maybe more like confused

penguins

.
•

Emperor

penguin

chicks have a grayish down coat with dark wing and tail feathers, but this odd bird is all white.
•

In summer petrels nest in crevices in the rocks, and colonies of

penguins

breed on nearby islands.
•

Even the marching mob of

penguins

in Batman Returns were flocked by Reynolds's algorithms.
•

Although the paintings are genuinely of Palaeolithic age, they do not represent

penguins

.
•

The

penguin

presses the pants into service for a dastardly diamond heist.
•

I thought you guys all wore those

penguin

coats.
Penguin
Penguin
trademark
a type of paperback book produced by Penguin Books, which was the first British company to sell good books as paperbacks at a reasonable price. Penguin is the best known name in paperbacks in the UK.
Origin
penguin
(

1500-1600

)

Perhaps from

Welsh

pen gwyn

"

white head

"