From Longman Dictionary of Contemporary English
feather
feath‧er
1
/
ˈfeðə
$

-ər
/
●●○
noun
[

countable

]
1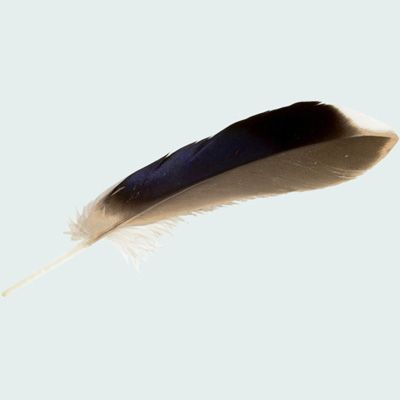 HBB
one of the light soft things that cover a bird's body
an ostrich feather
feather bed/pillow etc
(=

a bed etc that is filled with feathers

)
2
→
a feather in your cap
→
light as a feather
at

light
2
(

4

)
, →

birds of a feather
at

bird
(

5

)
, →

ruffle somebody's feathers
at

ruffle
1
(

2

)
feather
•

The baby slept in the bottom drawer of the dresser: the kitten had a

feather

cushion.
•

This is a hook which has material and

feathers

tied on to it.
•

Today, the cheapest chicken feed consists of fishmeal, chicken

feathers

and chicken innards.
•

an eagle

feather
•

This makes the wings very soft to the touch and probably cuts down noise from

feathers

moving against one another during flight.
•

A little

feather

here or some kind of detail livens the moment.
•

Those cells which can form pigment migrate beneath the skin and enter all the

feather

germs.
•

In the latter method, the

feathers

are removed after a hot-water bath.
•

Their voices were

feathers

, falling leaves, water seeping into its table.
feather bed/pillow etc
•

Without Rice to fall back on like a

feather bed

of dreams, the 49ers made the transition from specificity to diversity.
•

It's far better to ruin a

feather pillow

than let yourself overflow in violent behaviour.
feather
feather
2
verb
[

transitive

]
1
→
feather your nest
2
DSO
to put feathers on an arrow
→
tar and feather somebody
at

tar
2
(

3

)
→ See

Verb table
feather
•

It was still a quarter of a mile beyond the line-up and it was already

feathering

.
•

The primary bevels were ground back and

feathered

away on the grindstone, taking care not to overheat and destroy the temper.
•

A small shiver of apprehension

feathered

her spine.
•

So long as they were in favour, they were free to

feather

their nests, which Andrei did as industriously as anyone else.
Origin
feather
1
Old English
fether