From Longman Dictionary of Contemporary English
parrot
par‧rot
1
/
ˈpærət
/
●●○
noun
[

countable

]
1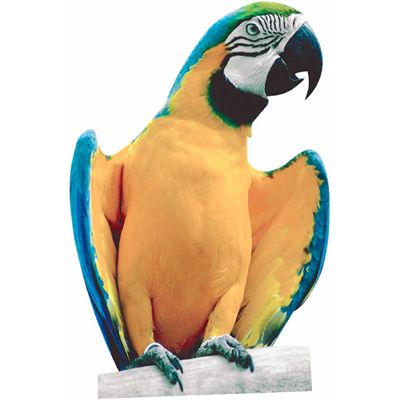 HBB
a tropical bird with a curved beak and brightly coloured feathers that can be taught to copy human speech
2
→
parrot fashion
→
sick as a parrot
at

sick
1
(

10

)
parrot
•

The sands were crowded with these strange bright

parrots

, accompanied by young gentlemen with unorthodox headgear and unbuttoned waistcoats.
•

They run off laughing like

parrots

as my companion shouts after them in disgust.
•

The thieves knew exactly what they were after - breeding pairs of

parrots

and parakeets - six thousand pounds worth.
•

Her island was peopled with plumed

parrots

, preening dodos, psychedelic land crabs.
•

Of the ten

parrot

species, eight are special to Sulawesi.
•

No, no: the

parrot

, the parrot in gloves.
•

In common with toucans,

parrots

and woodpeckers, cuckoos have two toes pointing forwards and two pointing back.
parrot
parrot
2
verb
[

transitive

]
REPEAT
to repeat someone else's words or ideas without really understanding what you are saying – used to show disapproval
He just parroted his father's opinions.
→ See

Verb table
parrot
•

Most are

parroting

a deeply entrenched view which they have not critically or creatively examined.
•

After the reports some political worthies spew out the same old phrases they

parroted

last time the natives grew restless somewhere.
•

That does not mean that they

parroted

slogans without appreciating their significance.
•

Despite this, it has the gall to

parrot

the vocabulary of Tory ideology.
•

The message would be couched in Inquisition language; the Astropath would

parrot

the words out telepathically.
•

He defended himself vigorously, and took Theo to task for

parroting

their father's words.
•

When Alexander hung up, I would call three or four investors and simply

parrot

what Alexander had just said.
Origin
parrot
1
(

1500-1600

)

Probably from

Old French

perroquet