From Longman Dictionary of Contemporary English
ldoce_243_a
ostrich
os‧trich
/
ˈɒstrɪtʃ
$

ˈɒː-, ˈɑː-
/
noun
[

countable

]
1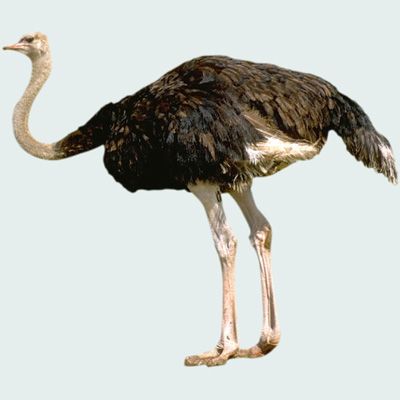 HBB
a large African bird with long legs, that runs very quickly but cannot fly
2
informal
DEAL WITH
someone who does not deal with difficult problems but tries to pretend that they do not exist
ostrich
•

She was behaving like an

ostrich

about Old Red - and a stubborn ostrich at that!
•

Her legs, in fishnet stockings, move gracefully, she fans herself with an

ostrich

feather.
•

There is a vulture that breaks

ostrich

eggs by hurling stones with its beak.
•

Bailey said she regularly prepares sausage, meatloaf, hamburgers and roasts from

ostrich

meat instead of beef.
•

Marchello said

ostrich

meat tastes like beef, is comparable in protein, but lower in fat, calories and cholesterol.
•

You will notice phrases like crocodile tears, the elephant never forgets, and the

ostrich

burying its head in the sand.
Origin
ostrich
1.

(

1200-1300

)

Old French

ostrusce

, from

Vulgar Latin

avis struthio

, from

Latin

avis

"

bird

"

+

Greek

strouthos

"

ostrich

"
2.

Because ostriches were believed to bury their heads in sand so that their hunters could not see them