From Longman Dictionary of Contemporary English
eagle
ea‧gle
1
/
ˈiːɡ

ə

l
/
●●○
noun
[

countable

]
1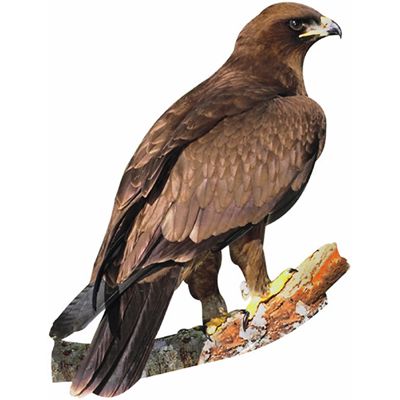 HBB
a very large strong bird with a beak like a hook that eats small animals, birds etc
2
two strokes less than par (=the usual number of strokes for a hole) in a game of golf
3
→
eagle eye
eagle
•

They come in the shape of a bear, an

eagle

and the head of a bison.
•

Yeah, and you can still see a bald

eagle

at the Desert Museum.
•

They do not feed the young, they do not protect them from

eagles

, they do not even teach them much.
•

Her smart blue blazer sported a golden

eagle

surrounded by words he had never seen before.
•

Mr Wolski was among the group of keepers who first saw the escaped golden

eagle

.
•

Golden

eagles

, see above, would alone be advised to land elsewhere.
eagle
eagle
2
verb
[

transitive

]
to use two

strokes

less than the usual number of strokes for a hole in a game of golf
→ See

Verb table
Eagle, The
The Eagle
Eagle, The
a British weekly comic (=a magazine with stories told in pictures) for boys, which was popular in the 1950s and 1960s. Its best-known character was Dan Dare.
From Longman Business Dictionary
Eagle
Ea‧gle
/
ˈiːg

ə

l
/
(
also
American Eagle
)
noun
[

countable

]
a US gold coin worth ten dollars
Coin dealers have been loading up on American Eagle gold coins, a popular choice for small investors whenever they rush to buy gold.
Origin
eagle
(

1300-1400

)

Old French

aigle

, from

Latin

aquila