From Longman Dictionary of Contemporary English
dinghy
din‧ghy
/
ˈdɪŋɡi, ˈdɪŋi
/
noun
(
plural

dinghies
)
[

countable

]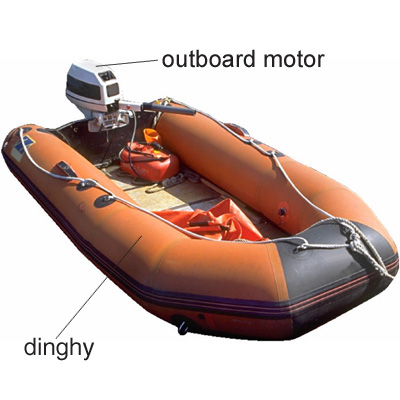 TTW
TTW
a small open boat used for pleasure, or for taking people between a ship and the shore
→
rubber dinghy
dinghy
•

Dinghies

For a change of pace, sailing dinghies and catamarans are available.
•

Redcar lifeboat was launched when the man was seen floating out to sea in the four foot

dinghy

.
•

Drifting nearby, however, was a sort of transparent inflatable

dinghy

, low in the water, resembling a cocoon.
•

Porto Heli A flexible mix of

dinghy

sailing, catamarans and windsurfing conveniently based on a family run hotel with half board.
•

Our best property, for those on shore holidays or

dinghy

holidays.
•

The helicopter had vanished and the

dinghy

was much nearer the pilot, who appeared not to be moving.
•

The tow rope sprang taut, plucking the

dinghy

clear as the swell broke, thundering forward on to the waiting coral.
•

I steered the

dinghy

powerfully to the right.
Origin
dinghy
(

1800-1900

)

Hindi

dingi

"

small boat

"

, from

dinga

"

boat

"