From Longman Dictionary of Contemporary English
helicopter
hel‧i‧cop‧ter
/
ˈheləkɒptə
$

-kɑːptər
/
●●●
S3
noun
[

countable

]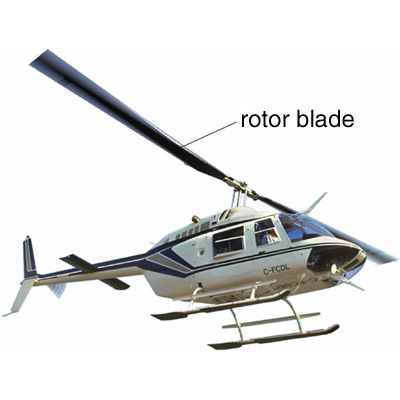 TTA
a type of aircraft with large metal blades on top which turn around very quickly to make it fly
SYN

chopper
helicopter
•

On the glistening horizon two black dots appeared, separated, and became

helicopters

roaring low overhead and scattering the distracted fowl.
•

As they came back, Robert's

helicopter

came into view.
•

The shock of the explosion rocked the

helicopter

.
•

But the front of the vehicle caught the undercarriage and sent the

helicopter

shuddering sideways.
•

With the

helicopter

hovering overhead, he drove for the peak of the leading wave, but then backed off.
•

Commanders naturally depended greatly on their

helicopters

.
•

And, those

helicopters

have many residents worried.
•

Two

helicopters

and several Coast Guard boats searched until midnight without finding anything.
Origin
helicopter
(

1800-1900

)

French

hélicoptère

, from

Greek

heliko-

(from

helix

;

→

HELIX

) +

pteron

"

wing

"