From Longman Dictionary of Contemporary English
cannon
can‧non
1
/
ˈkænən
/
noun
[

countable

]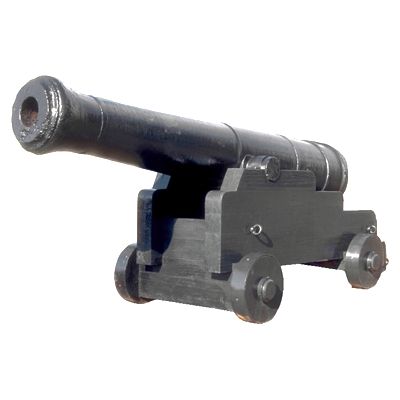 PMW
a large heavy powerful gun that was used in the past to fire heavy metal balls
cannon
•

But it's different, there's a strange hush in the air and the endless rumbling of 50,000

cannon

shells.
•

If all three aspects are not addressed the 240 additional

cannon

fodder will not remain in the system either.
•

That would be in the garage, right next to his

cannon

.
•

With eyes half closed he could see it as a miniature

cannon

.
•

The fog flickered around him, streaking like lightning low to the ground, or mute

cannon

fire.
•

There, they were surrounded by sand bags and soaked with a water

cannon

, which disabled the devices.
•

Only if none of these targets is available will I open fire on the big battalions with

cannon

.
cannon
cannon
2
verb
[

intransitive always + adverb/preposition

]
HIT/BUMP INTO
to hit someone or something while moving fast
cannon into
She came hurtling round the corner and cannoned straight into me.
cannon off
The ball cannoned off the far post.
→ See

Verb table
cannon
•

Koeman was involved everywhere and cracked in a 35-yard shot which

cannoned

back off the post after 48 minutes.
•

He went running off after the boy down the tunnel, dodging people and

cannoning

into others.
•

Soon he was

cannoning

off lime trees and, as they passed the second gates, crashed into the left-hand gatepost.
•

Lights blazing, their car

cannoned

off the kerb, tyres squealing in protest, then they were roaring along the alley.
•

White burst clear, but his shot

cannoned

off the legs of the experienced Barcelona keeper Zubizaretta.
Origin
cannon
(

1300-1400

)

French

canon

, from

Italian

cannone

"

large tube, cannon

"

, from

canna

;

→

CANNELLONI