From Longman Dictionary of Contemporary English
roulette
rou‧lette
/
ruːˈlet
/
noun
[

uncountable

]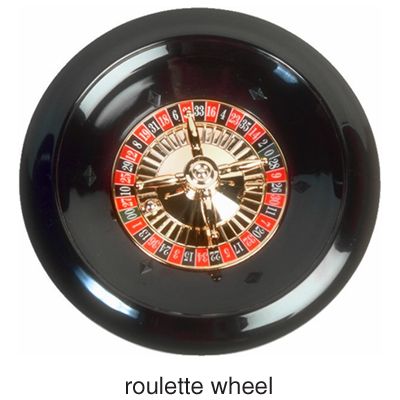 DGG
a game in which a small ball is spun around on a moving wheel, and people try to win money by guessing which hole the ball will fall into
roulette
•

Half our people starving and the other half standing around a

roulette

wheel.
•

Then I sit at a

roulette

table.
•

Last week they played a new noise that was obviously the sound of a ball dropping into a

roulette

wheel.
•

The effect is rather like the behavior of a

roulette

ball on a roulette wheel.
•

Phone calls have become

roulette

or bingo games.
•

I hadn't discovered

roulette

then.
•

He also spent his evenings at the

roulette

wheels of Monte Carlo, squandering extravagant sums.
•

The

roulette

wheels were sunk in circular pits.
Origin
roulette
(

1700-1800

)

French

Old French

roele

"

small wheel

"

, from

Latin

rota

;

→

ROTATE