From Longman Dictionary of Contemporary English
plaster
plas‧ter
1
/
ˈplɑːstə
$

ˈplæstər
/
●○○
noun
1
[

uncountable

]
AVS
TBC
a substance used to cover walls and ceilings with a smooth even surface. It consists of lime, water, and sand.
2
[

uncountable

]
MH
plaster of Paris
3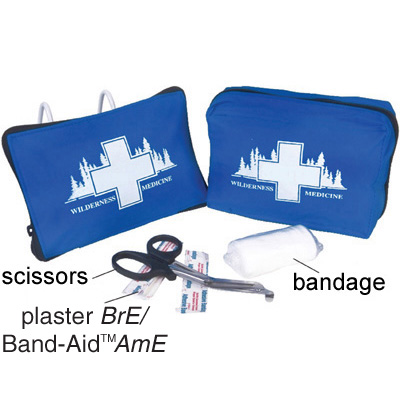 [

countable, uncountable

]
British English
MH
a piece of thin material that is stuck on to the skin to cover a small wound
SYN

bandaid

American English
4
→
in plaster
plaster
•

Bronzes are created by building sand moulds of a

plaster

original, in itself a skilled and labour intensive job.
•

Three days after that, a

plaster

jacket was fitted from her shoulders to her hips.
•

There was a

plaster

model of the Eiffel Tower in there.
•

The midfield player broke an arm during the midweek draw with Arsenal and will be in

plaster

for six weeks.
•

It was mightily impressive bowling by any standards, and with his left hand in

plaster

it was quite remarkable.
•

The bone has failed to knit properly and his hand must remain in

plaster

.
•

Rather like Steve, who makes

plaster

casts of the vulva for drawer handles.
•

When hardened, smooth down with abrasive paper, then seal with

plaster

primer.
plaster
plaster
2
verb
[

transitive

]
1
COVER
to put a wet usually sticky substance all over a surface so that it is thickly covered
be plastered with something
Her face was plastered with make-up.
2
TCN
to completely cover a surface with something, especially large pieces of paper, pictures etc
be plastered with something
The windows were plastered with notices.
The news of the wedding

was plastered all over the papers

(=

was the main story in the newspapers

)

.
3
TBC
to put wet plaster on a wall or ceiling
We're plastering the bathroom.
4
FLAT
to make your hair lie flat or stick to your head
be plastered to something
His hair was plastered to his forehead with sweat.
be plastered down/back
Her hair had been plastered down by the rain.
Grammar
Plaster
is usually passive in meanings 1,2 and 4.
→
plaster

something ↔

over
→ See

Verb table
plaster
•

The next time we come across that creep, he's

plastered

.
•

The news of the wedding was

plastered

all over the morning papers.
•

They report he appears to be drinking heavily, and occasionally shows up

plastered

at the office.
•

There is a broadsheet

plastered

crookedly to a wall near their bungalow.
•

He clasped the royal hand and

plastered

it with three lingering kisses.
•

All the surfaces were pale ochre mud and dung which the women

plastered

over stone each year.
•

A lorry rolled past us along the road, its crumbling body bright with painted pictures

plastered

over with dust.
•

Small Jerichos

plaster

patches of basalt in the new flows of warm water.
•

A team of builders from the coast are still

plastering

the vaults of the vestibule which even with scaffolding are out of reach.
be plastered with something
•

The wall

was plastered with

old movie posters.
Origin
plaster
1
(

900-1000

)

Latin

emplastrum

, from

Greek

, from

emplassein

"

to plaster on

"

, from

plassein

;

→

PLASTIC

2