From Longman Dictionary of Contemporary English
bungalow
bun‧ga‧low
/
ˈbʌŋɡələʊ
$

-loʊ
/
●○○
noun
[

countable

]
1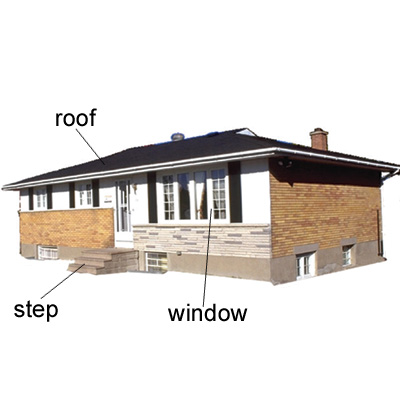 British English
TBB
HOME
a house that is all on ground level
2
American English
TBB
HOME
a small house that is often on one level
bungalow
•

Bungalow

refusal: Plans to build three bungalows at Village Farm, Trimdon, have been refused.
•

A settlement of flats and

bungalows

house about 20 senior citizens, with a resident warden.
•

Other rooms and

bungalows

range up to $ 3,000 a night.
•

More than 600 people were evacuated from their homes in Norfolk and eight

bungalows

collapsed after the sea washed away their foundations.
•

Through the bedroom window, Converse could see Mr Roche hosing down the lawn behind his

bungalow

.
•

He and his wife lived in a modern

bungalow

on the outskirts of the city.
•

As she nears Greg's father's

bungalow

, she sees the blue transit drive away.
•

Koju drove implacably on until we reached our destination Baabara, a cluster of old stone

bungalows

.
Origin
bungalow
(

1600-1700

)
Hindi
bangla
"

(house) in the Bengal style

"