From Longman Dictionary of Contemporary English
ldoce_256_a
pew
pew
1
/
pjuː
/
noun
[

countable

]
1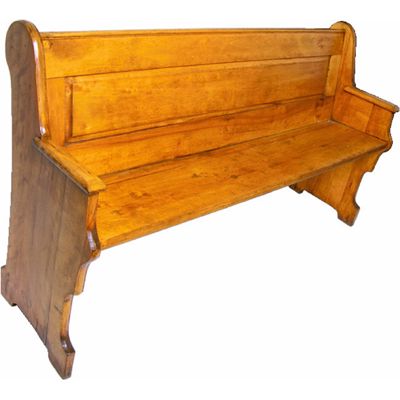 DHF
a long wooden seat in a church
2
→
take a pew
pew
•

Then, toward the front, on the gospel side, he saw a man kneeling in a

pew

.
•

His hand reached for the corner of a

pew

, the other scrabbling at the cracks in the uneven floor.
•

Yes, by all means, take a

pew

.
•

She sits in the church

pew

nest to you each week.
•

There is a row of

pews

on either side of the chapel to seat two in each pew.
•

The great audience rose, clapping and applauding, as the soldiers filed into she

pews

reserved for them...
•

Except for the

pews

and the floors, almost every interior surface was covered with statues or paintings.
•

The inner door stood open and through it she caught sight of Eleanor Shergold sitting in one of the

pews

.
pew
pew
2
interjection
American English
spoken
UNPLEASANT
used when something smells very bad
pew
•

Pew

! What stinks?
Origin
pew
1
(

1300-1400

)

Old French

puie

, from

Latin

podia

, plural of

podium

;

→

PODIUM
pew
2
(

1900-2000

)
pooh