From Longman Dictionary of Contemporary English
soldier
sol‧dier
1
/
ˈsəʊldʒə
$

ˈsoʊldʒər
/
●●●
S3
W2
noun
[

countable

]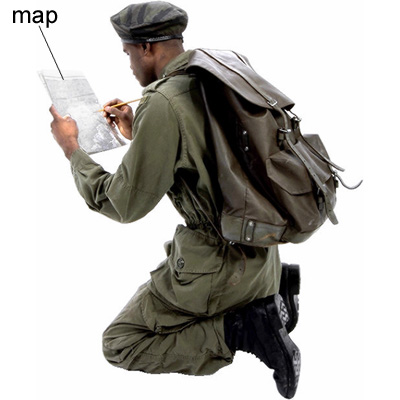 PMA
BO
a member of the army of a country, especially someone who is not an officer
→

troop
A British soldier was wounded in the fighting.
an enemy soldier
soldier
•

This orphan grew up to be a

soldier

.
•

Moore has been a

soldier

for most of his adult life.
•

Grinning

soldiers

crowded around the partition.
•

We can form a human chain of Berliners along the Wall which no one dare break, nomatterhow many

soldiers

they send.
•

Women were raped by their countrymen as well as by United Nations

soldiers

who were supposed to protect them.
•

Foreshadowing yet another Communist practice, he formed colonies of

soldiers

to farm virgin areas.
•

There were several

soldiers

guarding the main gate.
•

Contemporary accounts give the impression of a watchful, mistrustful regime, of a country bristling with fortresses and teeming with

soldiers

.
•

A group of young

soldiers

were standing outside talking excitedly, their bulging kit-bags leaning up against their legs.
soldier
soldier
2
verb
→
soldier on
→ See

Verb table
soldier
•

Do you realise, that I've been

soldiering

longer than anything else since I was a schoolboy?
•

After losing centre-forward Lloyd Davies with a knee injury, the Cobblers

soldiered

on with ten men to earn a goalless draw.
•

But the eighty year old has

soldiered

on.
Origin
soldier
1
(

1200-1300

)

Old French

soudier

, from

soulde

"

pay

"

, from

Late Latin

solidus

"

gold coin

"

, from

Latin

solidus

(adjective);

→

SOLID

1