From Longman Dictionary of Contemporary English
grape
grape
/
ɡreɪp
/
●●●
S3
noun
[

countable

]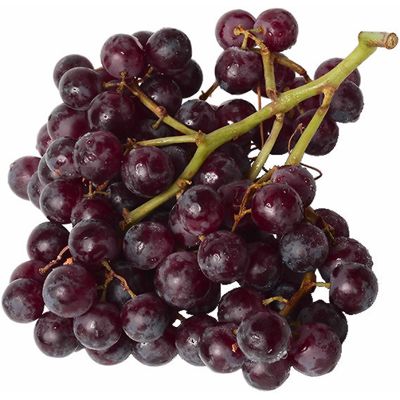 DFF
HBP
one of a number of small round green or purple fruits that grow together on a vine. Grapes are often used for making wine
a

bunch of grapes
grape juice
red seedless grapes
→
sour grapes
at

sour
1
(

5

)
THESAURUS
grape
one of a number of small round green or purple fruits that grow together on a

vine

. Grapes are often used for making wine
I've brought you a bunch of grapes.
Different grape varieties produce wines of widely different character.
vine
(
also
grapevine
)
a plant that produces grapes
There are 2,000 acres of vines in England, compared with 2.6 million in France.
He left the grapes on the vine as long as possible — sometimes even late into October.
vineyard
a piece of land where grapevines are grown in order to produce wine
The wine is from one of Germany's most famous vineyards.
grape
•

Try Concord

grapes

for their jagged leaves.
•

He stood at the window eating

grapes

from a paper bag torn open down the side.
•

This is not the case with sugar, honey,

grape

must, cloves and other spices which increase its merit.
•

The merlot

grape

dominates this medium-to full-bodied wine.
•

a bunch of

grapes
•

Higher up, position a ring of

grape

hyacinth bulbs.
•

Slowly add the

grape

juice to the bowl and whisk.
•

This allows the complexities of the

grape

to shine through, a quality inherent in all great wines.
bunch of grapes
•

His mouth was opened wide as if awaiting a

bunch of grapes

.
•

Where would I find a

bunch of grapes

? 4.
•

There were peaches, and

bunches of grapes

, entwined with leaves of varying shades and textures.
•

The corn was already ripening and the vines in full leaf, with

bunches of grapes

hanging thickly.
Origin
grape
(

1200-1300

)

Old French

crape

,

grape

"

hook, bunch of grapes

"