From Longman Dictionary of Contemporary English
donkey
don‧key
/
ˈdɒŋki
$

ˈdɑːŋki
/
●○○
noun
1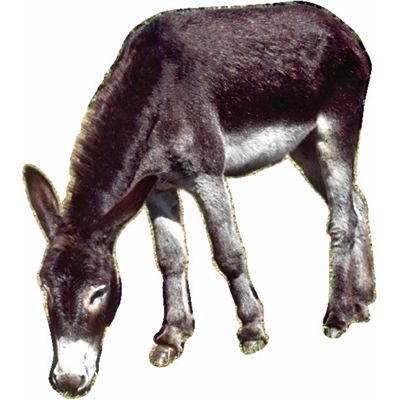 HBA
[

countable

]
a grey or brown animal like a horse, but smaller and with long ears
2
→
donkey's years
donkey
•

The students dissected

donkeys

rather than horses and even Coleman used donkey material to demonstrate horse muscles.
•

Shelter is essential - especially for

donkeys

.
•

When he made his rounds on a light-gray

donkey

, people bowed their heads and dared not look at his face.
•

Police in Ballymoney, Co Antrim, yesterday confirmed the

donkey

was stolen.
•

The

donkey

decided to go to Bremen, a town where everyone played music.
•

The rugged terrain is inhabited by deer, antelopes and, locals say, wild

donkeys

.
Origin
donkey
(

1700-1800

)

Perhaps from

dun

(=gray-brown) +

-key

(as in

monkey

)