From Longman Dictionary of Contemporary English
certificate
cer‧tif‧i‧cate
/
səˈtɪfɪkət
$

sər-
/
●●○
S3
W3
noun
[

countable

]
1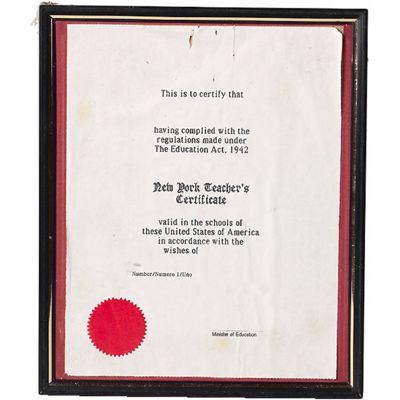 RECORD
an official document that states that a fact or facts are true
birth/death/marriage certificate
(=

giving details of someone's birth, death, or marriage

)
2
SE
an official paper stating that you have completed a course of study or passed an examination
a degree certificate
COLLOCATIONS
ADJECTIVES/NOUN + certificate
a medical certificate
You can get a medical certificate that shows which vaccinations you've had.
a birth certificate
In order to get a passport, you'll need your birth certificate.
a marriage certificate
He found a copy of his parents' marriage certificate.
a death certificate
According to his death certificate, he died aged 44.
a share certificate
(=

proving what shares someone owns

)
She kept official letters and share certificates in a locked case.
verbs
issue a certificate
(=

officially provide one

)
The certificate will be issued upon payment of the fee.
certificate
•

He must receive the above

certificates

the day before the cremation is due to take place.
•

The claimant should then submit medical

certificates

for the duration of their absence from work.
•

A sub-contractor who holds an I, S or P

certificate

must present the actual certificate to the builder for inspection.
•

Students who complete the program receive a skills

certificate

along with their high school diploma.
•

Betsy earned a teaching

certificate

from San Jose State University.
•

Proof that the motor vehicle required a test

certificate

is often overlooked.
•

In order to get along in a world which is controlled by outsiders and Westerners, you need to get that

certificate

.
•

He thought of Miss Sadie coming across the little socks and the

certificate

.
•

If you lose the

certificates

, you can sign an affidavit and still retrieve the will.
birth/death/marriage certificate
•

The findings were based on examining all

birth certificates

registered in all the states and the District of Columbia.
•

Data on cardiovascular disease from

death certificates

are known to be inaccurate.
•

Could you tell me where to apply for a full

birth certificate

with all my parents' details on it?
•

There were no marriage lines and no

birth certificate

to be had from public records.
•

The klebsiella bug was named on Dean's

death certificate

as a contributing factor.
•

The coroner issues the

death certificate

, usually ascribing death to a disease found during the post-mortem examination.
•

Now the declaration of her age on the

death certificate

was out of her control, the truth was listed at last.
From Longman Business Dictionary
certificate
cer‧tif‧i‧cate
/
səˈtɪfɪkətsər-
/
noun
[

countable

]
1
an official document that states that certain facts are true
The mother's occupation is not routinely recorded on the

birth certificate

.
The merger was completed a year after the certificate of merger was filed.
2
an official paper stating that you have completed a course of study
Over 1000 senior graduates were presented with certificates in recognition of their participation in the programmes.
→
see also
gift certificate
Origin
certificate
(

1400-1500

)

French

certificat

, from

Late Latin

, past participle of

certificare

;

→

CERTIFY