From Longman Dictionary of Contemporary English
wicker
wick‧er
/
ˈwɪkə
$

-ər
/
noun
[

uncountable

]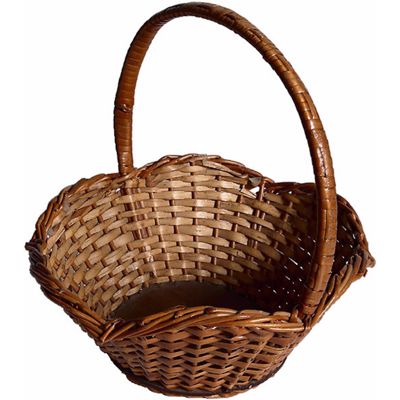 DHF
TI
thin dry branches or

reeds

that are woven together
a wicker basket
wicker
•

To each side of the hearth was a high-backed

wicker

armchair in an intricate closely woven design fitted with patchwork cushions.
•

They sat, in their dresses and business suits, in canopied

wicker

beach chairs.
•

Yes B: Nude tramp carrying

wicker

basket 5 V: More information on the hover mower.
•

Pampered passengers rode among brass lamps and cushioned

wicker

furniture.
•

During these movements the object happens to rub against the

wicker

of the bassinet.
•

She sat in the

wicker

chair beside the bed and began, after a little, to feel comfortable and sleepy.
•

This

wicker

hamper is packed with delicious goodies and costs £64.92, inclusive of nationwide delivery.
•

Present-day medicine men use

wicker

baskets and reed arrows.
Origin
wicker
(

1300-1400

)

From a

Scandinavian

language