From Longman Dictionary of Contemporary English
baboon
ba‧boon
/
bəˈbuːn
$

bæ-
/
noun
[

countable

]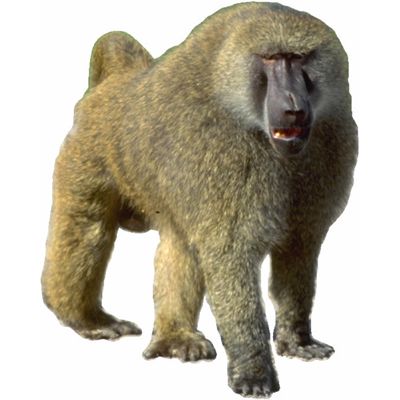 HBA
a large monkey that lives in Africa and South Asia
baboon
•

He's got all this thick black hair like a

baboon

.
•

Presumably, these relatively open habitats favored larger groups as they did for chimps and

baboons

, the two other open-country primates.
•

There was the wig, too, mixed yak and

baboon

hair and synthetic fibers.
•

They can also help one another to defeat an attack by rival male

baboons

that are attempting to take over their shared females.
•

But unlike the peripheral

baboons

, who are physically controlled by the dominant ones, the peripheral men are not powerless.
•

Since receiving the

baboon

marrow, Getty has had moderate increases in his immune cell numbers, Deeks said.
•

Young

baboons

are reared in social units of complex structure.
Origin
baboon
(

1400-1500

)

French

babouin

, from

baboue

"

ugly face

"