From Longman Dictionary of Contemporary English
toad
toad
/
təʊd
$

toʊd
/
noun
[

countable

]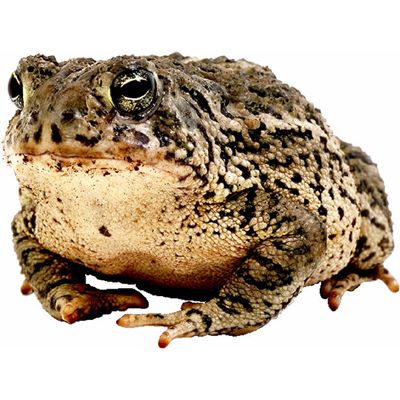 HBA
a small animal that looks like a large frog and lives mostly on land
toad
•

As they obeyed, Mungo could see that the sorcerer's apprentice was a

toad

, puffed up with fear or pride.
•

The sound was something like a pond full of croaking

toads

.
•

I abandoned the garden, which harboured the non-existent

toad

.
•

When the bacteria reproduced, it reproduced the

toad

genes as well, creating a new type of bacteria.
•

When the

toad

is attacked, this chemical weapon oozes out as a thick, creamy liquid.
•

The

toads

at the revival meeting.
Toad
Toad
one of the main characters in the children's story

The Wind in the Willows

by Kenneth

Grahame

. Toad is a rich, proud character who lives in a big house called Toad Hall and thinks he is very important.
Origin
toad
Old English

tade

,

tadige