From Longman Dictionary of Contemporary English
telescope
tel‧e‧scope
1
/
ˈteləskəʊp
$

-skoʊp
/
●●○
noun
[

countable

]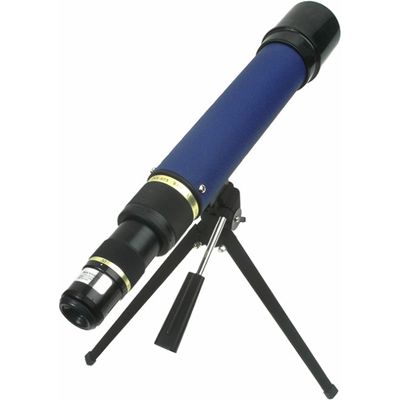 HA
a piece of equipment shaped like a tube, used for making distant objects look larger and closer
through a telescope
Details on the Moon's surface can only be seen through a telescope.
→
radio telescope
telescope
•

The light blinds and freezes the animal, and the shooter, using a

telescope

, aims between the eyes.
•

Yet, when we acquire a brass

telescope

, it remains a brass telescope despite inevitable deterioration.
•

Far down the inverted

telescope

he saw the faint white figure of May Welland-in New York.
•

Another scientist might have proposed a modification in the optical theory governing the operation of the

telescopes

used in the investigation.
•

I looked through the

telescope

and saw a small boy with a bag over his shoulder.
•

Inside one of the observatories was the

telescope

that I knew immediately would make a perfect backdrop for the portrait.
•

These

telescopes

revealed ice caps at both poles of Mars and documented seasonal changes in color and contrast.
•

As with

telescopes

, the larger the aperture the greater the light-grasp, but there are hazards too.
through a telescope
•

Lovelock told them he could determine whether there was life on a planet by looking

through a telescope

.
•

For centuries we had studied the Moon

through telescopes

and, latterly, from satellites.
•

Why should observations

through a telescope

be preferred to naked-eye observations?
•

For instance, suppose an astronomical theory is to be tested by observing the position of some planet

through a telescope

.
•

The garrison, too, had taken to watching the spectators

through telescopes

, above all to see what they were eating.
•

In a reversal of normality, the Eiger had stared

through a telescope

at her.
•

Those who stared

through telescopes

or field glasses saw how drastically the two climbers had slowed on the third day.
telescope
telescope
2
verb
1
SHORT/NOT LONG
[

transitive

]
to make a process or set of events happen in a shorter time
be telescoped into something
The whole legal process was telescoped into a few weeks.
2
[

intransitive

]
if something telescopes, the parts of it press together or slide over each other, and it becomes smaller
The front of the car telescoped when it hit the wall.
→ See

Verb table
telescope
•

Buildings, black as anthracite, were receding or

telescoping

down, rumbling as they moved, clearing a field for battle.
•

The steering wheel can be tilted up and down and

telescoped

in and out.
•

Two quite different events, occurring some seventy years apart, appear to have been garbled or

telescoped

in this passage.
•

The play's three acts are admirably

telescoped

into a 2 1/2-hour program.
•

On and on it goes: Past events are

telescoped

into those of today.
•

Tilt and

telescoping

steering wheels are there for comfort.
•

Time

telescoped

strangely - they were in the lane, in the wood, opposite the house.
•

Acting together, the two groups serve as retractors by

telescoping

the abdomen.
•

Below is a revolving stage with a

telescoping

wall.
be telescoped into something
•

On and on it goes: Past events

are telescoped into

those of today.
Origin
telescope
1
(

1600-1700

)

Modern Latin

telescopium

, from

Greek

teleskopos

"

seeing a long way

"

, from

tele-

(

→

TELE-

) +

skopos

"

watcher

"