From Longman Dictionary of Contemporary English
stereo
ster‧e‧o
1
/
ˈsteriəʊ, ˈstɪər-
$

ˈsterioʊ, ˈstɪr-
/
noun
(
plural

stereos
)
1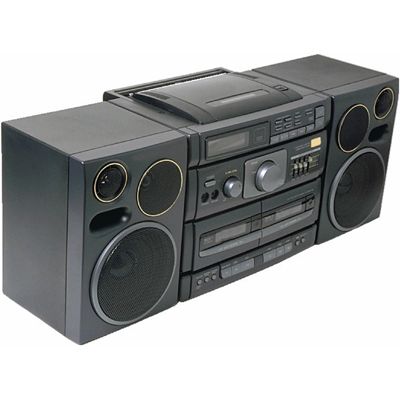 (
also
stereo system
)
[

countable

]
TCR
a machine for playing records,

CDs

etc that produces sound from two

speakers
a stereo with good speakers
on a stereo
He was listening to the Beatles on the car stereo.
2
→
in stereo
→
personal stereo
stereo
•

They told us that you could get a

stereo

in Saigon for about a third of what it cost in the States.
•

Had these people got bored with making cars and

stereos

and aerosols? were they going to start making history?
•

Eventually, environmental health officers seized Mary Carruthers'

stereo

system and speakers after a petition from neighbours.
•

When the

stereo

sends audio signals to the electrodes in the speaker, sound comes out of the perforations.
on a stereo
•

Two excerpts from Scriabin's Poem of Fire were recorded

on stereo

discs on 12 March 1932.
stereo
stereo
2
(
also
stereophonic
)
/
ˌsteriəˈfɒnɪk◂, ˌstɪər-
$

ˌsteriəˈfɑːnɪk◂, ˌstɪr-
/
adjective
TCR
using a recording or broadcasting system in which the sound is directed through two

speakers
→

mono
,

quadraphonic
stereo equipment
stereo
•

A wide-screen projection system was used in combination with

stereo

lenses to produce a three-dimensional effect.
•

This gives them overlapping fields of view and the true

stereo

vision that they need to capture their prey.
Origin
stereo
2
(

1900-2000

)

stereophonic

(

(1900-2000)

)

, from

Greek

stereos

"

solid

"

+

English

phonic