From Longman Dictionary of Contemporary English
shutter
shut‧ter
1
/
ˈʃʌtə
$

-ər
/
noun
[

countable

]
1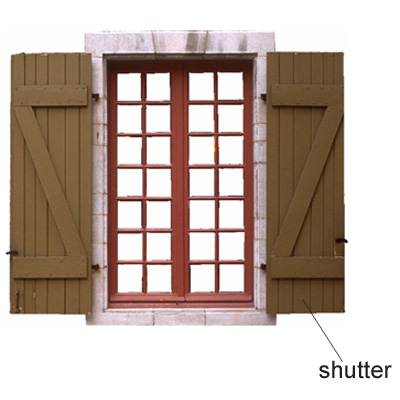 [

usually plural

]
DH
one of a pair of wooden or metal covers on the outside of a window that can be closed to keep light out or prevent thieves from coming in
2
TCP
a part of a camera that opens for a very short time to let light onto the film
shutter
•

But penning in this raucous melee are buildings that seem all

shutters

and grids.
•

Interior

shutters

, from a wide range to order, from about £70 for the natural finish shown.
•

City walls, narrow streets, open

shutters

, old women sitting outside in the early evening.
•

When he threw open

shutters

to let in air and light, pictures sprang at her from the walls.
•

So, today, you might find taupe siding with creamy off-white

shutters

and a burgundy front door.
•

Otherwise use Venetian blinds in plastic or wood which can be easily wiped, or wooden

shutters

, or no covering at all.
shutter
shutter
2
verb
[

transitive

]
American English
to close a business, office etc for a short time or permanently
The company shuttered its Hong Kong business a year ago.
→ See

Verb table
shutter
•

The snowstorm forced the company to

shutter

100 of its stores.
•

If found guilty, the offending brokerages could be

shuttered

and officials imprisoned, ministry officials said.
•

The windows were all

shuttered

and what paint was left was peeling off in huge flakes.
•

All the windows were

shuttered

as if we were in the depths of winter.
•

The Embassy is locked,

shuttered

, barred.
•

The true childhood home is roughly where the

shuttered

computer store stands, though the town has yet to acknowledge the mistake.
•

The firm

shuttered

its Hong Kong investment banking business a year ago, two years after opening it.
•

Earl grabbed the girl, looked right then left down the row of

shuttered

summer cottages, and shoved the girl inside.
•

Kells itself was

shuttered

till the afternoon.
Origin
shutter
1
(

1500-1600

)
→
SHUT
1