From Longman Dictionary of Contemporary English
radish
rad‧ish
/
ˈrædɪʃ
/
noun
[

countable

]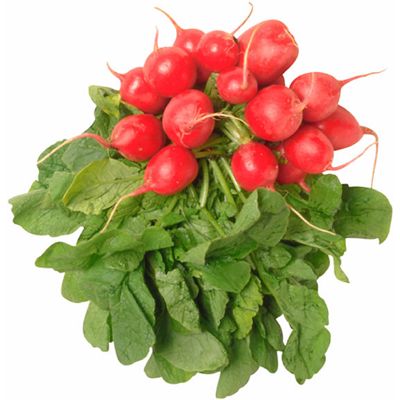 DFF
a small vegetable whose red or white root is eaten raw and has a strong spicy taste
radish
•

On the board she placed olives and

radishes

and several eggs which she had roasted in the ashes.
•

Serve the Oriental Beef on a bed of lettuce on large platters and garnish with spring onions and

radish

waterlilies.
•

I coddle the beets,

radishes

, and yellow squash, pamper the chives and basil; overindulge the tomatoes.
•

Continue to sow salads like lettuce,

radish

and spring onion for cropping in late summer.
•

The addition of the peppery

radishes

is a new twist on the classic idea of using baby turnips.
•

Faintly he can smell soup, and taste

radishes

and wine.
•

When serving greens, garnish with

radishes

.
•

To serve, place squab on individual serving plates and serve greens alongside, garnished with

radishes

.
Origin
radish
(

1000-1100

)
Latin
radix
"

root, radish

"