From Longman Dictionary of Contemporary English
lettuce
let‧tuce
/
ˈletɪs
/
●●●
S3
noun
[

countable, uncountable

]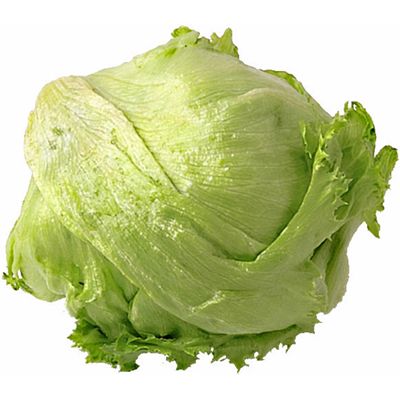 HBP
DFF
a round vegetable with thin green leaves eaten raw in salads
COLLOCATIONS
adjectives
crisp/crunchy
a salad made with crisp lettuce
limp/wilted
(=

lettuce that is not fresh and crisp

)
The lettuce was all wilted.
There was nothing in the fridge except a rather limp lettuce.
shredded lettuce
(=

torn or cut into small pieces

)
Serve the trout on a bed of shredded lettuce.
lettuce + NOUN
a lettuce leaf
Tear the lettuce leaves into small pieces.
phrases
a head of lettuce
(=

a complete lettuce

)
You'll need a head of lettuce for this salad recipe.
lettuce
•

For example, cucumbers,

lettuce

, tomatoes and tobacco are very susceptible to attacks from the Cucumber Mosaic Virus.
•

Slice the eggs in half and arrange on a serving dish on a bed of torn frisee

lettuce

.
•

The threat is as if a garbage truck had overturned and dumped wilted intellectual

lettuce

on bystanders.
•

This comes during a growing season that has been reasonably favorable to California field crops like

lettuce

.
•

a head of

lettuce
•

The dressing is great tossed with a salad of

lettuce

, broccoli florets, zucchini and yellow pepper slices.
•

Make sure

lettuce

is available all the time and in sufficient quantity.
•

Where is the Chicano whose father slaved in the

lettuce

fields?
•

Wash the

lettuce

and tear into pieces.
Origin
lettuce
(

1200-1300

)

Old French

laitues

, plural of

laitue

, from

Latin

lactuca

, from

lac

"

milk

"

; because of its milky juice