From Longman Dictionary of Contemporary English
propeller
pro‧pel‧ler
/
prəˈpelə
$

-ər
/
noun
[

countable

]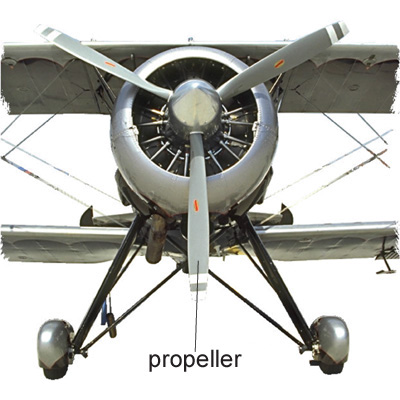 TTA
TTW
a piece of equipment consisting of two or more blades that spin around, which makes an aircraft or ship move
propeller
•

Most impressive is probably the Mustang nose and

propeller

at what once was the entrance to Steeple Morden.
•

This indicated that neither of the two four-bladed

propellers

had disintegrated in flight.
•

He sat there looking at the dead

propeller

all the way to Cleveland.
•

The following advice applies to normally-aspirated engines driving fixed-pitch

propellers

.
•

Three hundred seventy

propellers

were replaced.
•

One aircraft was fitted with a R-1340 geared engine and a three-bladed constant speed

propeller

with spinner.
•

Investigators blamed a crack in the

propeller

.
•

Designer William Towns rides the Waterbike,

propeller

driven in various configurations.