From Longman Dictionary of Contemporary English
mussel
mus‧sel
/
ˈmʌs

ə

l
/
noun
[

countable

]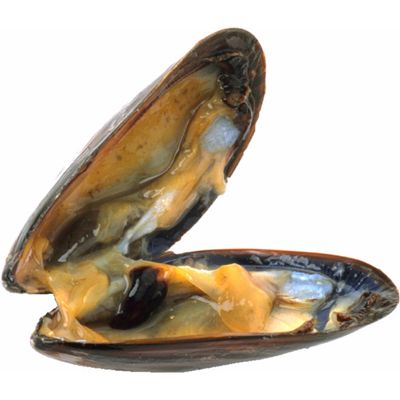 HBA
DFF
a small sea animal with a soft body that can be eaten and a black shell that is divided into two parts
mussel
•

Reduce by about a third, then add cream and

mussels

and cover.
•

Not until I understood the inextricable connection between

mussels

and crabs was I able to see both crabs and mussels at once.
•

They are best used for cocktail savouries, but the cheaper

mussels

make a very tasty pasta sauce.
•

To vary the casserole, add 3-4 prepared scallops or a small jar of drained

mussels

.
•

I see increasing numbers of anemones and a couple of empty

mussel

shells.
•

You can also try beef heart,

mussel

, chicken, liver prawn and the like.
•

Divide the

mussels

and prawns between the plates.
•

The linguini with

mussels

marinara was yet another marvel.
Origin
mussel
Old English

muscelle

, from

Latin

musculus

"

little mouse, muscle, mussel

"

(

→

MUSCLE

1

); because it looks like a mouse