From Longman Dictionary of Contemporary English
leek
leek
/
liːk
/
noun
[

countable

]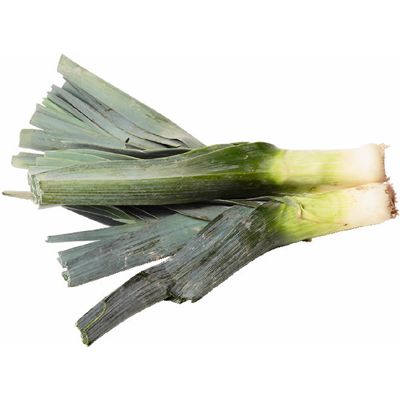 HBP
DFF
a vegetable with a long white stem and long flat green leaves, which tastes like an onion
leek
•

Add

leek

shreds, parsley, spinach and remaining cider to pan, cover and cook for a further four minutes.
•

Add

leeks

and saute slowly until they just begin to colon Add carrot and celery and saute for 3 minutes longer.
•

Leeks: choose thin, firm clean

leeks

.
•

For Neil Kinnock, a dish of

leeks

baked in Caerphilly sauce - easy to eat and comforting whatever the outcome.
•

Add carrot, onion,

leeks

, celery, and garlic and continue to saute until lightly browned.
•

For a first course, there is a potato

leek

soup.
•

Cut remaining

leek

greens into fine shreds.
•

Remove

leeks

and oysters from skillet and set aside.
Origin
leek
Old English
leac