From Longman Dictionary of Contemporary English
fridge
fridge
/
frɪdʒ
/
●●●
S2
noun
[

countable

]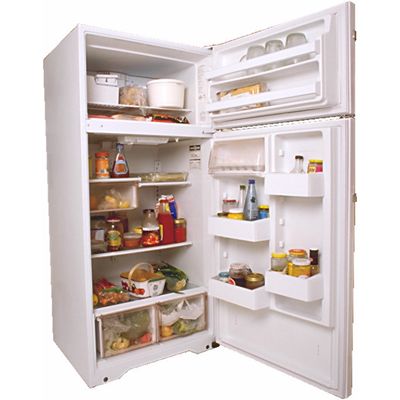 DHF
a large piece of electrical kitchen equipment, used for keeping food and drinks cool
SYN

refrigerator
, →

freezer
fridge
•

I had been saving up to buy a cooker and

fridge

and Brian's mum and dad gave us some of the furniture.
•

They have a better taste if not eaten straight away from the

fridge

.
•

One fillet tonight, the rest in the

fridge

.
•

Spoon into a jar and store in the

fridge

for up to 2 weeks.
•

You could put them in the

fridge

, but many like a fluctuating temperature which would be extremely hard to simulate!
•

We have to expect more wastage, can't keep putting it in and out of the

fridge

, could poison somebody.
•

He walked into the brightly-lit kitchen, opened the

fridge

, took out a bottle of pure water and opened it.
•

Actually I am papering the

fridge

with rules; you can no longer tell its color.
Origin
fridge
(

1900-2000

)
refrigerator