From Longman Dictionary of Contemporary English
cue
cue
1
/
kjuː
/
●○○
noun
[

countable

]
1
SIGN/INDICATION
an action or event that is a signal for something else to happen
cue for
Our success was the cue for other companies to press ahead with new investment.
somebody's cue to do something
I think that's my cue to explain why I'm here.
2
SIGN/INDICATION
a word, phrase, or action in a play that is a signal for the next person to speak or act
She stood nervously in the wings waiting for her cue.
miss your cue
(=

not speak or act when you are supposed to

)
3
→
(right/as if) on cue
4
→
take your cue from somebody
5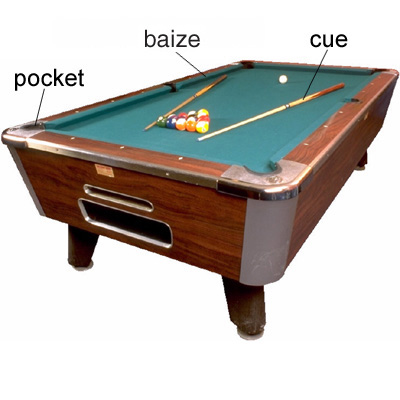 DGS
a long straight wooden stick used for hitting the ball in games such as

billiards

and pool
cue
•

He was irritated when a

cue

to speak interrupted his imagining.
•

There are

cues

that signify congestion.
•

Use the leash to give the dog

cues

about what you want him to do.
•

The woman takes her

cue

from the guy eventually.
•

Black, taking his

cue

from the darkness, stands up from his spot and extends his hand to Blue.
•

Some people can cope with hearing loss by using other

cues

to meaning.
•

The idea is to see if the terms on which bargainers settle can be influenced by such

cues

.
•

The audience will take

cues

from you.
•

Thus the

cues

of subordinates, peers, supervisors, family and friends become important triggers to arousal.
•

The

cue

maker then carefully chooses and seasons the wood, before tapering and sanding it down on a lathe.
somebody's cue to do something
•

He was irritated when a cue to speak interrupted his imagining.
•

However, they are probably too infrequent to provide hearers with cues to ethnicity.
•

I took my cue to go, and left without a backward glance or wave.
•

It was hard to tell whether Greene was giving cues to the crowd or taking them from it.
•

Nice touches include steam vents that cast lingering clouds over the courses and new audio cues to warn of danger.
•

The children are encouraged to use frustrating experiences as a cue to employ the turtle reaction.
•

The system involves classifying lip-patterns which look alike and providing cues to disambiguate them.
•

The words sounded like an impending cue to announce his lecture, but Stafford had only spoken for twenty-eight minutes.
miss your cue
•

As soon as anyone

misses their cue

they return to number one and all those below the number move up one.
cue
cue
2
verb
[

transitive

]
SIGN/INDICATION
to give someone a sign that it is the right moment for them to speak or do something, especially during a performance
The studio manager will cue you when it's your turn to come on.
→
cue

something ↔

up
→ See

Verb table
cue
•

Best to sit back and

cue

him up for the one-liners.
•

It takes a trained and sensitive therapist to

cue

in to your personal needs.
•

I didn't have a solid grasp of myself - I depended on other people and surroundings to

cue

me.
•

The child's behaviour may then

cue

the adult as to how successful was the initial interpretation.
•

It was still 1-1 after extra time, so

cue

the dreaded penalty shootout.
•

When the sun goes down, the eyes

cue

the gland to start pumping melatonin.
•

This will

cue

the waiter to refill it.
Origin
cue
1
1.

(

1500-1600

)

Probably from

qu

, short form of

Latin

quando

"

when

"

, used as a direction in actors' copies of plays.
2.

(

1700-1800

)

French

queue

"

tail, cue

"

, from

Latin

cauda