From Longman Dictionary of Contemporary English
crane
crane
1
/
kreɪn
/
●●○
noun
[

countable

]
1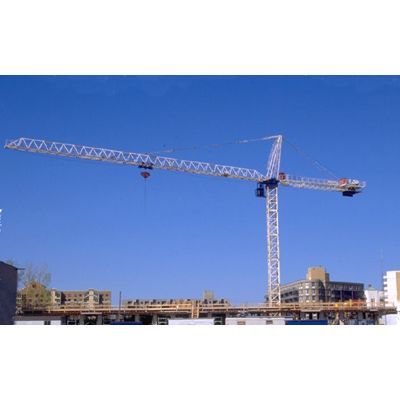 TBC
a large tall machine used by builders for lifting heavy things
→

hoist
2
HBB
a tall water bird with very long legs
crane
•

Llangollen Railway staff at work re-railing the breakdown

crane

and repairing the Permanent Way following the derailment at Glyndyfrdwy.
•

The Bidston Dock

cranes

have been a Birkenhead landmark for many years.
•

Lane blocked: Rush hour traffic in east Middlesbrough was blocked yesterday due to a broken down

crane

.
•

A heron or

crane

had been made out of solid bronze by an artist commissioned by the cultural society.
•

A little way off, under the clouds, I could see

cranes

moving.
•

When the end of the column was over the steel baseplate, the

crane

operator lowered it slowly into position.
crane
crane
2
verb
[

intransitive, transitive always + adverb/preposition

]
LOOK AT
to look around or over something by stretching or leaning
crane forward/over etc
The children craned forward to see what was happening.
He

craned his neck

above the crowd to get a better view.
→ See

Verb table
crane
•

The steel support beam had to be

craned

in; the crew was waiting for the crane.
•

On the second floor of London's Dorchester Hotel, people

crane

like meerkats for a better view.
•

They had been

craning

over the gallery, safe out of reach, so free to stare.
•

Most of the young, rather shabbily dressed people in the pub shouted over it or

craned

their heads closer to hear.
•

Sandal-shod farmers stand quietly in the golden evening light or

crane

their necks for a look at the speakers.
•

Others thus jammed beside her were shouting questions to those before them, and

craning

to peer over their heads.
crane forward/over etc
•

His pulse quickened as he

craned forward

for a better view.
•

Idi

craned over

her, like a boy biting an apple.
•

A buzz of wordless terror went up from the men around him as they

craned over

his shoulder to look.
•

He

craned over

the balcony again, but finally he seemed to sigh.
•

They had been

craning over

the gallery, safe out of reach, so free to stare.
•

I draw parallel with the door and

crane forward

to see into the room.
•

Mungo

craned forward

, turning the side of his face to the rain.
From Longman Business Dictionary
crane
crane
/
kreɪn
/
noun
[

countable

]
a large tall machine that lifts things and moves them from one place to another, used especially on building sites and for unloading ships
Origin
crane
1
Old English

cran

the bird