From Longman Dictionary of Contemporary English
beetle
bee‧tle
1
/
ˈbiːtl
/
noun
[

countable

]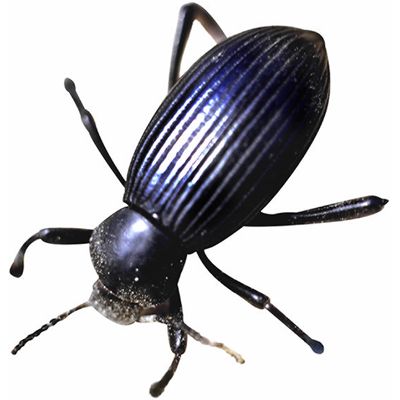 HBI
an insect with a round hard back that is usually black
beetle
•

You know that story of the man who wakes up and finds he's turned into a

beetle

?
•

A group identity, the way they say black

beetles

do?
•

If you are curious about the bombardier

beetle

, by the way, what actually happens is as follows.
•

It is found mainly in timbers less than fifty years old and is a much larger insect than the furniture

beetle

.
•

The house longhorn

beetle

is another insect pest which seems to be confined to parts of Hampshire and south-west Surrey.
•

Three hundred thousand kinds of

beetles

are known, far more than any other group.
•

The presence of

beetles

is acknowledged as an indicator of the general health of the forest.
•

There also were

beetles

crawling on the ice in slow motion.
beetle
beetle
2
verb
[

intransitive always + adverb/preposition

]
British English
informal
HURRY
to go somewhere quickly and leaning forward
SYN

scurry
He went beetling off down the corridor.
→ See

Verb table
beetle
•

The little mouth was born with a scowl, the brows positively

beetle

over the turned-up be-ringed breathing apparatus.
•

They

beetled

past; a game to top each other's sniggers.
•

Crowe offered a pathetic excuse about investigating woodworm infestation for his nature column, but I soon

beetled

the truth out of him.
•

It is useless to

beetle

your brow in what you clearly believe to be a threatening fashion.
Beetle
Beetle
British English
(
also
Bug
infml
American English
)
a small car made by Volkswagen which has a high, rounded top. It was first produced in the 1930s and has been popular ever since because of its unusual shape. In 1998 a Beetle with a completely new design went on sale.
Origin
beetle
Old English

bitula

, from

bitan

;

→

BITE

1