From Longman Dictionary of Contemporary English
beaver
bea‧ver
1
/
ˈbiːvə
$

-ər
/
noun
[

countable

]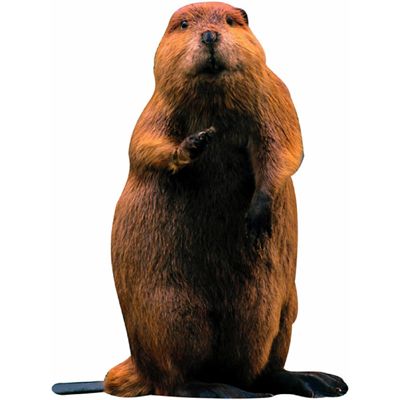 HBA
a North American animal that has thick fur and a wide flat tail, and cuts down trees with its teeth
→
eager beaver
at

eager
(

2

)
beaver
•

Whatever its benefits, a

beaver

lake is a conspicuous and characteristic feature of the landscape.
•

These meant that a

beaver

had been here recently.
•

This will tend to apply to all the logs placed by any

beaver

bearing this particular mutation.
•

A prime

beaver

pelt was worth $ 6 to $ 8 a pound.
•

Although retired, Selwyn Hopkins was a regular

beaver

where gardening was concerned.
•

Like the

beaver

skins, it had never had a function in this domesticated place.
•

The

beaver

skins that Oliver had sent her from Deadwood were a trouble.
•

Luiza and Freddi were there, Luiza muffled up in a huge and unflattering

beaver

lamb coat that had seen better days.
beaver
beaver
2
verb
→
beaver away
→ See

Verb table
beaver
•

To do the work requires an enormous amount of effort

beavering

away among old records, checking, copying and encoding.
•

Information can be automatically kept up to date, and will allow individuals to co-operate on projects instead of

beavering

away in isolation.
•

The Doc's patented micro-organisms were

beavering

away inside, keeping her at the peak of perfection.
•

You will enjoy

beavering

away to find out.
Origin
beaver
Old English
beofor