From Longman Dictionary of Contemporary English
badminton
bad‧min‧ton
/
ˈbædmɪntən
/
noun
[

uncountable

]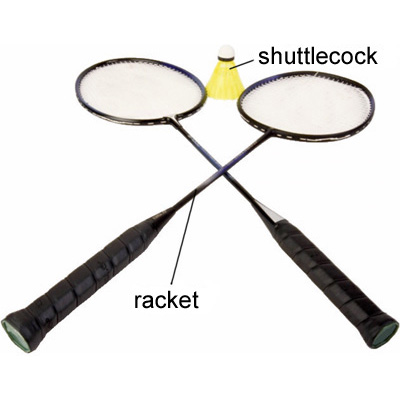 DSO
a game that is similar to tennis but played with a shuttlecock (=small feathered object) instead of a ball
badminton
•

At Wolverhampton the carriage had all but emptied, leaving only a sleeping woman cradling a

badminton

racket.
•

And I defy any of you to think of an amusing sign-off joke involving Nick Cave and

badminton

.
•

Baseball,

badminton

, golf, swimming or camping, or backpacking, or fishing.
•

At its best,

badminton

has been proven to be more demanding, faster and requiring more agility than tennis.
•

The parent demand function is concerned with the consumer's decision to take part in

badminton

or not.
•

Welcome to the world of

badminton

.
•

So the Center Parcs leisure experience includes playing

badminton

, squash or tennis wreathed in the fog of a hundred Silk Cuts.
•

I know it was only the

badminton

club doubles competition.
Origin
badminton
(

1800-1900

)

Badminton

grand house in Gloucestershire, England where it was first played