From Longman Dictionary of Contemporary English
avocado
av‧o‧ca‧do
/
ˌævəˈkɑːdəʊ◂
$

-doʊ◂
/
(
also
avocado pear
)
noun
(
plural

avocados
)
[

countable

]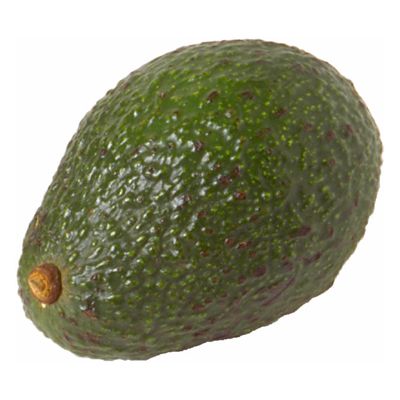 HBP
DFF
a fruit with a thick green or dark purple skin that is green inside and has a large seed in the middle
avocado
•

Thus creating a succulently flavoured ham that goes perfectly with a watercress and

avocado

salad and a few slices of brown bread.
•

On the side, I enjoy the tortilla soup and a green salad topped with chopped

avocado

and jicama.
•

Stir in

avocado

and season with salt.
•

Ladle the broth into soup bowls and garnish with turkey strips,

avocado

chunks and cilantro.
•

They had not mentioned Kiwi fruit, nor the

avocado

and they definitely hadn't warned him about the pine kernels.
•

Sprinkle the

avocado

slices with lemon juice, then arrange them with Mozzarella and tomato slices. 2.
•

Her speciality was a kind of uncooked

avocado

mousse that was better avoided, although her martinis were good.
Origin
avocado
(

1600-1700

)

Spanish

aguacate

"

avocado

"

, from

Nahuatl

ahuacatl

"

testicle, avocado

"

; influenced by

Spanish

avocado

"

lawyer

"