From Longman Dictionary of Contemporary English
ldoce_354_a
wreath
wreath
/
riːθ
/
noun
[

countable

]
1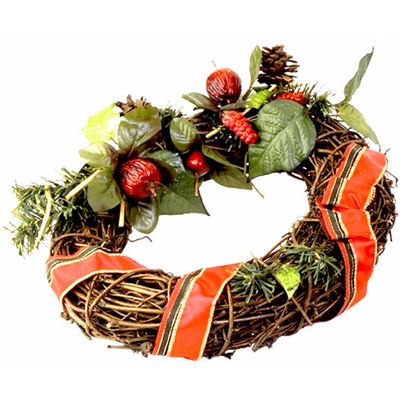 HBP
MX
a circle made from leaves or flowers that you put on the place where a person is buried
The prime minister

laid

a

wreath

at the war memorial.
2
a circle of leaves or flowers that people use to decorate their houses at Christmas
3
HBP
WIN
a circle made from leaves that a person wore on their head in the past as a sign of honour
a laurel wreath
wreath
•

He sits on the grass lacing stiff boots into a

wreath

of effort and breath.
•

Although it is July, the house has a Christmas

wreath

hung in its picture window.
•

Doris Allen of San Francisco arrived wearing a silver silk floral

wreath

atop her head.
•

Okra pods also can be dried and used on holiday

wreaths

, or picked on stems and used in dried floral displays.
•

There was my

wreath

, and a lot of flowers from Margaret, and another wreath from Doreen.
•

The survivors joined them a few minutes later, leaving their own

wreaths

and flowers.
•

There were piles of bad-taste

wreaths

around and sickly tremolo organ music.
•

Miss Lofthouse had taken the

wreaths

from the Memorial.
laid ... wreath
•

Clinton

laid a wreath

of red and white roses before a majestic memorial at Piskaryevskoye Cemetery.
•

Voice over Ex-petty officer, Sid Hall

laid a wreath

to remember lost colleagues.
•

Charles, who

laid wreaths

in Hong Kong yesterday, played polo on her birthday in July.
Origin
wreath
Old English
writha