From Longman Dictionary of Contemporary English
violin
vi‧o‧lin
/
ˌvaɪəˈlɪn
/
●●○
noun
[

countable

]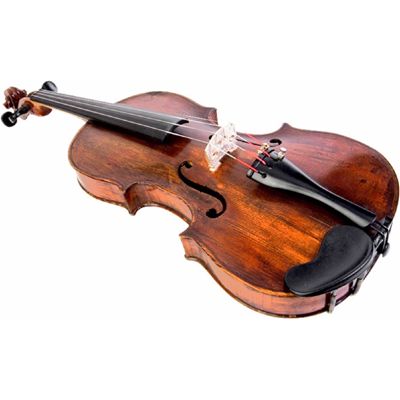 APM
a small wooden musical instrument that you hold under your chin and play by pulling a bow (=special stick) across the strings
violin
•

She was too wound up, too much on edge, her nerves as taut as

violin

strings.
•

And the sound of Beethoven's Second Romance for

violin

and orchestra, coming from the stereo speaker in his bedroom.
•

He holds his

violin

low down, the bow fastidiously poised above it.
•

A cacophony of

violins

, clarinets and trumpets fills the air.
•

Not a note seems superfluous in this essay for flute, clarinet in A, vibraphone, piano,

violin

and cello.
•

Born and raised in Tokyo, Komuro started

violin

lessons at age 3 and began learning keyboards in elementary school.
•

While the woodwind and low strings were reasonably well replicated, the

violins

, timpani and brass left much to be desired.
Origin
violin
(

1500-1600

)

Italian

violino

, from

viola

;

→

VIOLA