From Longman Dictionary of Contemporary English
cello
cel‧lo
/
ˈtʃeləʊ
$

-loʊ
/
noun
(
plural

cellos
)
[

countable

]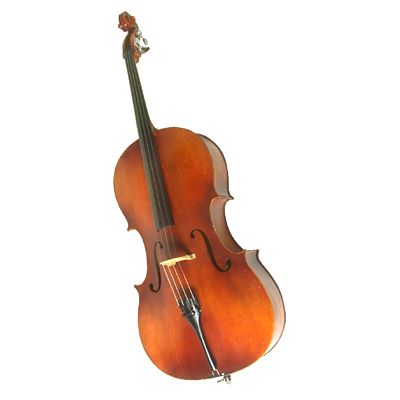 APM
a musical instrument like a large violin that you hold between your knees and play by pulling a bow (=special stick) across the strings
cello
•

The senior one was a fearsome, mustachioed amateur

cello

player who addressed every class in a terrifying bawl.
•

Not a note seems superfluous in this essay for flute, clarinet in A, vibraphone, piano, violin and

cello

.
•

I originally studied classical

cello

from age seven until I was fourteen, then moved to the upright bass.
•

I had never heard

cellos

and low strings added to rock songs.
•

The violas can be used, however, also the

cellos

if they can be spared from the energetic bass part.
•

She did not leave the hospital without the

cello

she played in a London symphony orchestra.
Origin
cello
(

1800-1900

)

violoncello

"

cello

"

(

(18-21 centuries)

)

, from

Italian

, from

violone

"

large stringed instrument

"

, from

viola

;

→

VIOLA