From Longman Dictionary of Contemporary English
ldoce_307_b
slither
slith‧er
/
ˈslɪðə
$

-ər
/
verb
[

intransitive always + adverb/preposition

]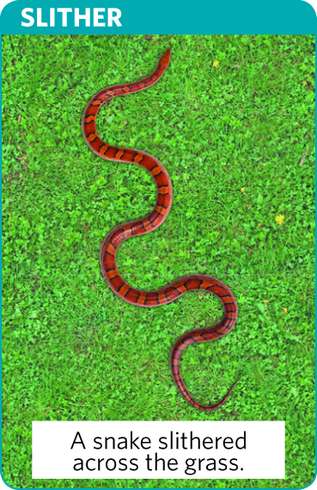 SLIDE
to slide somewhere over a surface, twisting or moving from side to side
A snake slithered across the grass.
He slithered down the muddy bank.
→ See

Verb table
slither
•

Bath could not hit their top gear of late as they too

slithered

around in the wet.
•

The snake

slithered

away through the grass.
•

Tom

slithered

down the muddy bank into the water.
•

He let it

slither

down the roof to the building's guttering.
•

For he was not a man who could

slither

into any shape required of him.
•

The air is filled with a dingo's howl, the footpaths alive with the poisonous snakes on their

slithering

nocturnal hunt.
•

As Katie fell asleep her book fell from her hands and

slithered

off the bed.
•

A wet pair of panty hose

slithered

over his ear.
•

They did so simply by reading the fine print and

slithering

through the loophole that yawned, obvious and inviting, therein.
•

After four or five testers had

slithered

through this interface maze, the correct solution would usually emerge.
Origin
slither
Old English

slidrian

, from

slidan

;

→

SLIDE

1