From Longman Dictionary of Contemporary English
pheasant
pheas‧ant
/
ˈfez

ə

nt
/
noun
[

countable, uncountable

]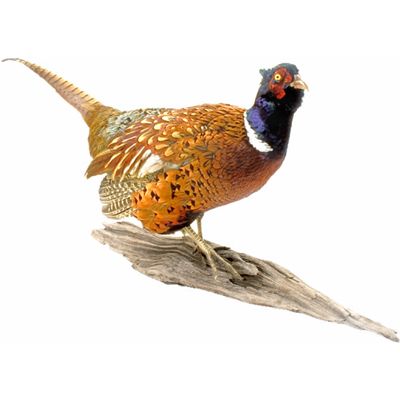 HBA
a large bird with a long tail, often shot for food, or the meat of this bird
pheasant
•

This was a swampy field where I once managed to shoot a

pheasant

as it became airborne, screeching.
•

A

pheasant

, caught in a stream of air, had dashed itself to death.
•

In fact, many gourmets consider

pheasant

and grouse to be the most delectable of all game birds.
•

Even the gentry, then, were having to eat

pheasant

without bread; what was the world coming to?
•

Pheasant: readily available and surprisingly cheap, any chicken recipe can be adapted for

pheasant

.
•

Also good with roasted

pheasant

and as contrast to many braised dishes.
•

Lightly season

pheasant

pieces with salt and pepper.
•

Transfer

pheasant

, still in pan, to the oven and cook for 8 to 10 minutes.
Origin
pheasant
(

1200-1300

)

Anglo-French

fesaunt

, from

Latin

, from

Greek

phasianos

, from

Phasis

ancient river in Asia