From Longman Dictionary of Contemporary English
panther
pan‧ther
/
ˈpænθə
$

-ər
/
noun
[

countable

]
1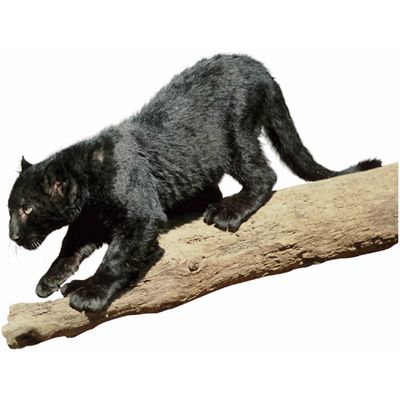 HBA
a large wild animal that is black and a member of the cat family
2
American English
HBA
a cougar
panther
•

He was cat-cautious, lithe as a

panther

, and thoroughly at home.
•

He would move, she guessed, with the supple grace of a

panther

.
•

Neither had I, but Siegfried prowled up and down like a caged

panther

as though willing something to happen.
•

Rangers coaxed the two remaining

panthers

down into the Everglades last year.
•

He solved the Chelsi problem by having her noisily eaten by a Stygian

panther

in the lab menagerie.
•

Some of these Knights adopted the

panther

as their emblem, and the Knight Panther was created.
•

The idea had reminded the old man of those last two

panthers

in electronic collars.
Origin
panther
(

1200-1300

)

Old French

pantere

, from

Greek

panther