From Longman Dictionary of Contemporary English
harness
har‧ness
1
/
ˈhɑːnəs
$

ˈhɑːr-
/
noun
[

countable, uncountable

]
1
TTB
a set of leather bands used to control a horse or to attach it to a vehicle it is pulling
2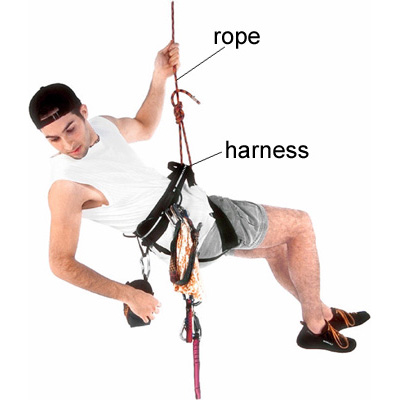 T
D
a set of bands used to hold someone in a place or to stop them from falling
a safety harness
3
→
in harness
4
→
in harness (with somebody)
harness
•

An essential piece of rock-climbing equipment is a climbing

harness

.
•

To wait in heavy

harness

On fluttered folk and wild Your new-caught, sullen peoples, Half devil and half child.
•

Taking one hand off the wheel, Nathan reached out and hooked his fingers through the front of her

harness

.
•

The sound of a horse in

harness

, of its hoof idly striking a stone!
•

So with borrowed gear, no

harness

and a stranger I set off.
•

Playpens or other

harnesses

, for instance, may be used frequently to keep their chil-dren safe.
•

The karabiner must be correctly attached to the

harness

.
harness
harness
2
verb
[

transitive

]
1
CONTROL
to control and use the natural force or power of something
We can harness the power of the wind to generate electricity.
2
TTB
to fasten two animals together, or to fasten an animal to something using a harness
3
TTB
to put a harness on a horse
→ See

Verb table
harness
•

The Missouri River is

harnessed

for hydroelectric power.
•

We

harness

fossil energy and breathe life into machines.
•

The important thing is to

harness

growth to self-knowledge, a ready acceptance of change, swift-moving business practice and sound judgement.
•

The snag is - first you must

harness

the fish.
•

A mixture of envy and admiration once led fishermen to try to

harness

the heron's gifts.
•

Attempts to

harness

the numerical strength of the casual poor had foundered on the rocks of seeming apathy.
•

It is designed for maximum pleasure and

harnesses

the power of a System Porsche 1.2 fuel-injected engine, complete with three-way catalyser.
•

They also featured coaches that could

harness

their players' egos.
•

A hybrid type of society emerged, in which archaic social forces were

harnessed

to modern industrial techniques.
From Longman Business Dictionary
harness
har‧ness
/
ˈhɑːnəsˈhɑːr-
/
verb
[

transitive

]
to control and use a natural force or people's energy or skills
He designs systems to harness the energy of waves to produce electricity.
→ See

Verb table
Origin
harness
1
(

1200-1300

)
Old French
herneis
"

bags, equipment

"