From Longman Dictionary of Contemporary English
gherkin
gher‧kin
/
ˈɡɜːkɪn
$

ˈɡɜːr-
/
noun
[

countable

]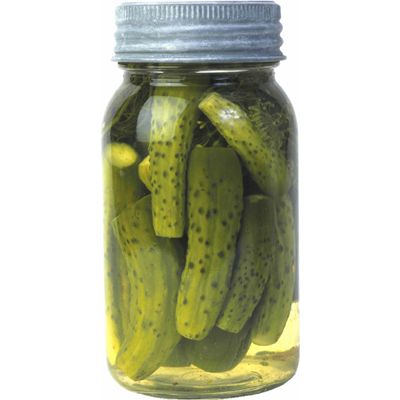 DFF
a small type of cucumber that has been preserved in vinegar to make a type of pickle
gherkin
•

Chips have lots of vitamin C and

gherkins

are fat-free, but mix with jacket spuds and calorie-free salads.
•

Pâté with sliced egg and

gherkin

.
•

Pizza Roll - spicy chopped pork with hunks of garlic salami, black olives, red popper and

gherkins

.
•

Divide one tablespoon of chopped

gherkins

among the toasts and serve.
•

Pierce 2 olive halves and one

gherkin

with halved cocktail sticks and put in orange to make porcupines' eyes and nose.
•

Actually, a damn sight more than from that stiff

gherkin

Smott.
•

Garnish with

gherkins

and cherry tomatoes.
Gherkin, the
the Gherkin
Gherkin, the
a very tall office building in London, designed by the British architect Sir Norman Foster, and completed in 2004. Some people think it looks like a gherkin because of its shape. The official name of the building is the Swiss Reinsurance Tower. It is also known more informally as the Swiss Re Building.
Origin
gherkin
(

1600-1700

)

Dutch

gurken

"

cucumbers

"

, from

Polish

ogurek

, from

Medieval Greek

agouros

"

watermelon

"