From Longman Dictionary of Contemporary English
cutlery
cut‧le‧ry
/
ˈkʌtləri
/
noun
[

uncountable

]
especially British English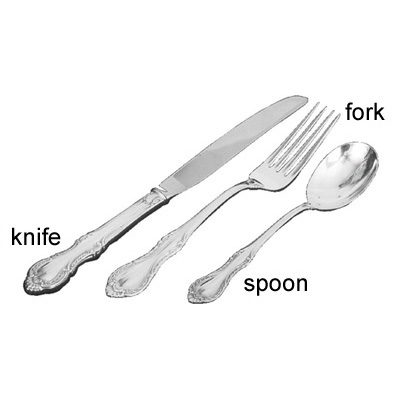 DFU
knives, forks, and spoons that you use for eating and serving food
→

crockery
SYN

silverware

American English
cutlery
•

Bone, plastic, wood or pearl-handled

cutlery

Exposure to very hot water can soften the glue holding the handle in place.
•

We shall therefore say that knife, fork and spoon are quasi-hyponyms of

cutlery

, and cutlery is a quasi-superordinate.
•

His brief was to design an item of

cutlery

with and not for a disabled student.
•

The pull-out

cutlery

drawer can be lifted out for easy unloading.
•

Ensure that

cutlery

which has been cleaned using chemicals gets a thorough washing before going back into the dining room.
•

He wedged the knife upright in the

cutlery

drawer while jamming it shut with one knee.
•

They were gleaming in the lamplight, like the

cutlery

at some demonic supper party.
•

She observed that I was the typical Americanthe third variant of eaters-who uses

cutlery

in what she called the most time-consuming manner.