From Longman Dictionary of Contemporary English
coral
cor‧al
1
/
ˈkɒrəl
$

ˈkɔː-, ˈkɑː-
/
noun
[

uncountable

]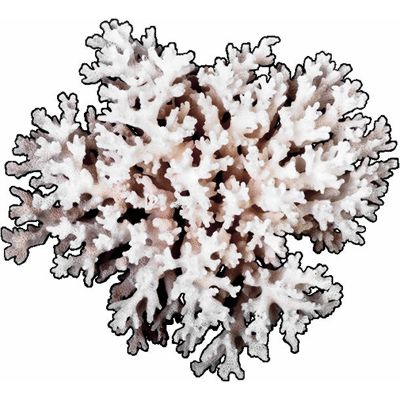 TI
DCJ
a hard red, white, or pink substance formed from the bones of very small sea creatures, which is often used to make jewellery
coral
•

a

coral

necklace
•

Unable to resist, she decided to treat herself to one of the dresses in a shade of pale

coral

.
•

They spent $ 2 million on environmental measures, he said, and hired biologists to replant

coral

that would be damaged.
•

Fish tucked into crevices peer out, while crabs scavenge over the reef and probe soft

corals

for food.
•

These plants absorb the carbon dioxide released by the

corals

and so help to keep the water oxygenated.
•

Sunlight feeds the algae which feed the animals which feed the

corals

, sponges, clams, and fish.
•

I prefer the more austere skeletons of the

corals

that live frugal, ancient lives in the deep sea.
•

The

corals

feed passively on bits of organic material suspended in the water.
•

The tow rope sprang taut, plucking the dinghy clear as the swell broke, thundering forward on to the waiting

coral

.
coral
coral
2
adjective
CC
pink or reddish-orange in colour
coral
•

The skirt was

coral

chiffon with a black velvet top.
Coral
Coral
a company that operates betting shops in many towns in the UK
Origin
coral
1
(

1300-1400

)

Old French

Latin

corallium

, from

Greek

korallion